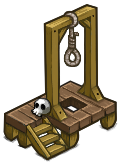 A gruesome spectacle. Quite pretty!

Level Required: 21
Size: 2x3
Description: N/A
Cost: 2 Brains (20 brain in zombie farm 2)
Life Force: +6
XP: +200
Text: Here hung Tom Rittenhouse for winning Zombie Farm's August decor competition.
Other notes: It comes with Version 0.78. It is one of the possible spoils of the Pirates.
Trivia
The Gallows was the winner of a decor competition in August, 2010, suggested by Tom Rittenhouse. More
Given XP was 1,000 before Version 0.84
Required level was level 1 before Version 0.86